| Moons | Incense Burners | Back Scratcher | Jewelry | Signs |
---
Here are pictures of various handcarved wood items. Being handcarved, no two are exactly alike. However, every effort is made to keep them all looking as much like the pictures as possible.
Currently the moons come in four styles: with beard and mustache, without beard and mustache, with beard and mustache plus painted Santa hat and with a skull face. They come in three sizes and they are currently made from three kinds of wood: red oak, maple and pine.
The prices vary according to the kind of wood, the size and the style. For price chart go here.Some crystal prices are also on the same page.
You can also choose whether you want it stained or not.
They are mostly sold with crystals though you may opt for just the moon without the crystal. The Santa moons are mostly sold with a snowflake shaped crystal though you may opt for another crystal or none at all.
Eye has also recently added a new design of moons. This new moon is wearing a tophat and "smoking" a pipe. Since it was originally created for St. Pat's day the hats are painted (yes I said painted) green. It can very easily be painted any color you choose; stars and stripes (Uncle Sam), black (British or Eastern gent) or any other color. It can also be made clean shaven with no pipe.


Return to top.

These hearts sell for $20.00. At this time I am only carving them from red oak.


The incense holders are carved from pine. They currently come in three styles: fist, human skull and cow skull. With the fist you will also have the choice of making it to hang on the wall or not. And, of course, you will have the choice of whether or not to stain.
I have been carving these incense holders since about 1985 and have been selling them at $15.00 since I first began making them. In the meantime everything else has gone up considerably, including the cost of all my tools and materials. For now I am continuing to offer them at $15.00 on this website though they are going up at craft fairs and other venues. This will be a limited time offer though I am not sure yet when it will end.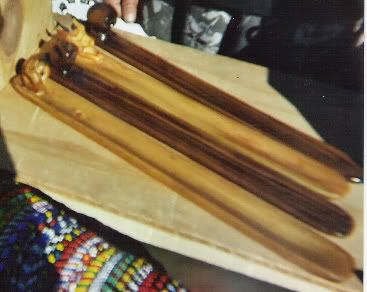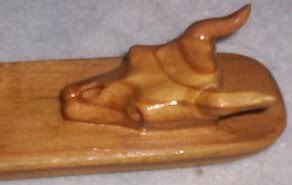 The backscratchers are currently carved from red oak only. The scratcher end is, of course, a hand. And you will, of course, have the choice of whether or not to stain. They are currently priced at $15.00 each.


Return to top
There will also be earrings and beads: butterflies, peace signs, teardrop peace signs, skulls, cowskulls, mushrooms and more. They will be made from various kinds of wood. You will notice that there are crystal and pot leaf earrings also pictured here. These will eventually be offered on a different page. But I want to point out here that the pot leaves are made from "green" wire. Eventually we will have close up pics so that you can see what they really look like. I think they are really cool. We also have the same in sterling silver wire. Or in any other wire if you would like to make a special order.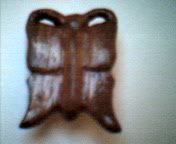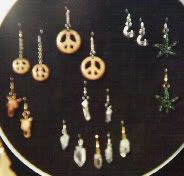 Return to top